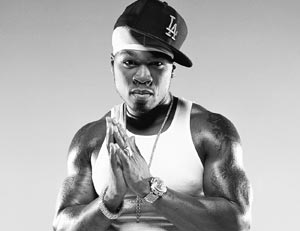 50 Cent is among rappers women's rights activist Valerie Smith wants removed from HMV's shelves.
Hiphop goes on trial
Human rights body weighs charge that rap pushes violence against women
I'm camped out in the second-to-last row of a high school auditorium when some chatty teens behind me start whining about having to attend this, for them, mandatory assembly. It's the first performance of The Barbershop Show, a hiphop musical on a Canada-wide Human Rights Education tour, the brainchild of non-profit org the 411 Initiative for Change and sponsored by Amnesty International, among others.
The idea is to reach young people by using contemporary music to pique their interest "in issues that affect their peers," including "violence against women and girls."
After some inital trepidation, the captive audience is soon won over by the skills of the Barbershop quartet and positive hiphop culture proponent Will Strickland.
"I find it interesting that rap music is always the easiest scapegoat to target," Strickland, creator and professor of the first-ever accredited course on rap culture at the U. of Massachusetts-Amherst, tells me over the phone a few days later. "Sex and sexism is in our social and cultural fabric. Hiphop culture did not start or perfect misogyny, which is part of the condition we live in."
But Strickland's less pumped when the subject shifts to why I'm really calling, a complaint filed with the Ontario Human Rights Commission against HMV by women's rights activist Valerie Smith over what she calls the peddling of "hate rap."
"Unless they want to bring an indictment against the music industry as a whole," Strickland says, chances are the OHRC will dismiss the case. It does, nevertheless, raise some intriguing legal questions.
The thrust of Smith's complaint is that according to human rights legislation, HMV is selling "goods that contain significant amounts of gender-related verbal abuse.
In so doing, the company is discriminating against women."
"Hate rap," she says, "has spread into the mainstream of popular culture and is both poisoning attitudes toward women and girls and encouraging violence against us."
Smith, who runs her own website and whose activism was sparked by her revulsion at slasher movies, says the human rights route is "an act of desperation, because we [women] are not covered under the hate propaganda law, which is why this type of language has become so pervasive."
Her claim names the usual suspects: Snoop Dogg, 50 cent, Eminem and Ja Rule. She tried to use federal hate laws to keep bile rapper Eminem from performing here, but to no avail because "gender" is not an identifiable group in this legislation.
The provincial human rights code is the next level of "protection" down the chain. She believes it's relevant because it talks about "discrimination… based on sex [which] includes... sexual harassment or inappropriate comments and actions of a sexual nature… offensive remarks… rough and vulgar humour or language related to gender."
A self-described "pop culture junkie," Smith succeeded in pressuring Bell Mobility to cease offering $2.50 downloads of "Pimptones" – pre-recorded skits of pimps, players and hos at their vernacular finest to be used instead of a standard rings or music. She also forced two individual Jumbo Video franchises to cull their "extreme splatter old-fashioned" slasher flick offerings.
It's hard to argue with Smith's observation that "there's been a really dramatic shift" in public discourse on misogyny when you see corporate giants lining up to get in bed with rappers while distancing themselves from artists who use homophobic or racist material.
For instance, self-described "motherfuckin' P-I-M-P" Snoop Dogg appears in ads as a shill for Chrysler. "This is clearly an indication that attitudes [toward women] have been poisoned," says Smith.
The commission's powers are very broad, in that it can order the payment of damages or otherwise do what is necessary to right discrimination.
In reality, however, U of T law prof Denise Réaume believes the chances of the OHRC ordering HMV to stop selling offensive rap are "extremely unlikely."
While some empirical research supports the proposition that exposure to material akin to rap influences attitudes toward women, "there's also a dispute about the validity of those studies," according to Réaume, because there are other contributing factors at play, and "a causal link is hard to make, given how much of our culture is misogynistic."
Says Réaume, "The use of criminal law in this context is very often counterproductive. This is heavy artillery – someone's going to jail, and that's not to be toyed with. The human rights mechanism is interesting because it makes for a debate, as opposed to the power of the state against an individual."
For instance, asks Réaume, "What does it do to our thinking when people walk around humming these tunes while thinking of the lyrics?"
At HMV, Dan Kuczkowski, VP of product, declines to comment. "We've got nothing to comment on because we haven't received anything from the human rights board, and until then I can't comment on anything," he says.
Chanteuse Melanie Durrant, who plays a character in an abusive relationship in one Barbershop skit, doesn't appreciate the "bitch this and ho that" one bit, but "it's not just the men," she points out.
She alludes to the current buzz over the Black Eyed Peas song My Humps, a Flow top 10 request in which the lone female in the group, Pea Fergie, sings about her glorious breasts.
And don't get her started on artist Khia's even more explicit exhortations to thugs, "Lick my pussy and my crack."
But is Durrant then being somewhat hypocritical, since she's opened for thug du jour 50 Cent?
"I'm a Canadian artist, which automatically makes me the underdog," she answers. "My music has a hiphop undertone, so if a big show comes through town I have to be there. That's the situation."
And beside, she adds, " I'm not saying bad things – and all those people get to see me first."
Of course, there's no shortage of adoring female fans at hiphop gigs. Is hiphop any worse than other art or social commentary that reflects negative aspects of our culture?
Another person on the local hiphop scene, former Dope Poet BellaDonna, aka Donna Michelle, is of several minds on the matter after absorbing lyrics submitted as part of Smith's complaint.
Michelle says Smith "lacks a certain understanding of hiphop culture," and that "a broader complaint against hateful material across all genres of music would be more valid."
But she also admits to feeling "hurt and violated" by some rap content. "All I can do is not buy this stuff and ask my colleagues to stop destroying our communities in this sick manner."
On the page, the lyrics are hard to defend outright, but some sure do cut a hell of a groove.
Still, when corporations primarily motivated by money get behind the production of certain cultural forms, society as a whole should be wary.
At this point in the game, is the stereotypical mainstream portrait of the black pimp coming from the streets or the boardroom?